As some of you know, I'm participating in a 31-day blog challenge hosted by
Michelle Rafter
. I wanted to take the challenge and see if I could post about life as a family on the fly. How do we stay connected to each other and our communities? What do we see and learn? How do other families do it?
As of yesterday, the challenge is one-third complete. These are my most popular posts: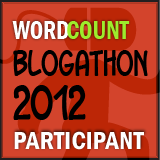 Mom Marketing for Picky Eaters
- Four tips on how to persuade your kid to try new foods.
Queen of the Road
- A quick introduction to my life. Includes great youtube clip of Roger Miller singing "King of the Road" in front of some psychedelic backdrop.
A Tale of Two Bagels (one standard, the other gluten-free)
- My longest post of the challenge. Two bread machine recipes for bagel dough, and a review of the process.
Pause the Spin Cycle
- How do you enjoy the journey?
And my most popular post so far?
Comedies that Inspire
- Six movies that make me laugh and inspire me as a parent, road warrior, community member, and writer.
Thanks for reading! Have anything you'd like to read about in the next third of the challenge? Share your thoughts in the comments.